WE LOVE FRAMES, SINCE 1988
Even if you could combine years of experience and foresight, deep Italian roots along with a passionate curiosity for different cultures, and traditions whispered from generation to generation with cutting-edge construction processes, you would still not be able to grasp what is the heart of our brand: a great love for the art of picture frame mouldings: design, materials, craftsmanship and that special touch we give to our customers all over the world.
OUR PRODUCTS ARE THE RESULT OF A LONG JOURNEY
Our adventure began thirty years ago. Now, when we look back, we can see how far we have come today; ensuring the high quality of each product and offering an ever-increasing range of styles. Every day we face a new journey, following the frame production cycle, from design to distribution.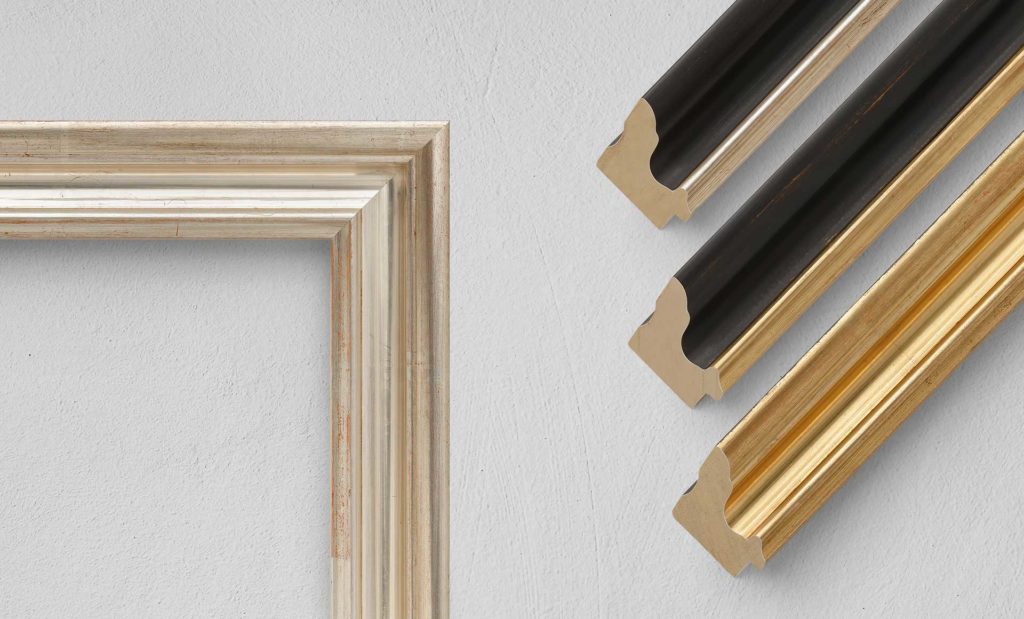 eyJpZCI6IjExIiwibGFiZWwiOiJDb250YXR0YWNpIiwiYWN0aXZlIjoiMSIsIm9yaWdpbmFsX2lkIjoiMSIsInVuaXF1ZV9pZCI6IndlZmoyIiwicGFyYW1zIjp7ImVuYWJsZUZvck1lbWJlcnNoaXAiOiIwIiwidHBsIjp7IndpZHRoIjoiMTAwIiwid2lkdGhfbWVhc3VyZSI6IiUiLCJiZ190eXBlXzAiOiJub25lIiwiYmdfaW1nXzAiOiIiLCJiZ19jb2xvcl8wIjoiIzgxZDc0MiIsImJnX3R5cGVfMSI6ImNvbG9yIiwiYmdfaW1nXzEiOiIiLCJiZ19jb2xvcl8xIjoiIzMzMzMzMyIsImJnX3R5cGVfMiI6ImNvbG9yIiwiYmdfaW1nXzIiOiIiLCJiZ19jb2xvcl8yIjoiIzMzMzMzMyIsImJnX3R5cGVfMyI6ImNvbG9yIiwiYmdfaW1nXzMiOiIiLCJiZ19jb2xvcl8zIjoiIzMzMzMzMyIsImZpZWxkX2Vycm9yX2ludmFsaWQiOiIiLCJmb3JtX3NlbnRfbXNnIjoiVGhhbmsgWW91IGZvciBjb250YWN0aW5nIHVzISIsImZvcm1fc2VudF9tc2dfY29sb3IiOiIjZGQzMzMzIiwiaGlkZV9vbl9zdWJtaXQiOiIxIiwicmVkaXJlY3Rfb25fc3VibWl0IjoiIiwidGVzdF9lbWFpbCI6InJvc2luaWNvcm5pY2lAZ21haWwuY29tIiwic2F2ZV9jb250YWN0cyI6IjEiLCJleHBfZGVsaW0iOiI7IiwiZmJfY29udmVydF9iYXNlIjoiIiwiZmllbGRfd3JhcHBlciI6IjxkaXYgW2ZpZWxkX3NoZWxsX2NsYXNzZXNdIFtmaWVsZF9zaGVsbF9zdHlsZXNdPltmaWVsZF08XC9kaXY+In0sImZpZWxkcyI6W3siYnNfY2xhc3NfaWQiOiI2IiwibmFtZSI6ImZpcnN0X25hbWUiLCJsYWJlbCI6IiIsInBsYWNlaG9sZGVyIjoiTmFtZSIsInZhbHVlIjoiIiwidmFsdWVfcHJlc2V0IjoiIiwiaHRtbCI6InRleHQiLCJtYW5kYXRvcnkiOiIxIiwibWluX3NpemUiOiIiLCJtYXhfc2l6ZSI6IiIsImFkZF9jbGFzc2VzIjoiIiwiYWRkX3N0eWxlcyI6IiIsImFkZF9hdHRyIjoiIiwidm5fb25seV9udW1iZXIiOiIwIiwidm5fb25seV9sZXR0ZXJzIjoiMCIsInZuX3BhdHRlcm4iOiIwIiwidm5fZXF1YWwiOiIiLCJpY29uX2NsYXNzIjoiIiwiaWNvbl9zaXplIjoiIiwiaWNvbl9jb2xvciI6IiIsInRlcm1zIjoiIn0seyJic19jbGFzc19pZCI6IjYiLCJuYW1lIjoibGFzdF9uYW1lIiwibGFiZWwiOiIiLCJwbGFjZWhvbGRlciI6IkNvbXBhbnkgTmFtZSIsInZhbHVlIjoiIiwidmFsdWVfcHJlc2V0IjoiIiwiaHRtbCI6InRleHQiLCJtYW5kYXRvcnkiOiIwIiwibWluX3NpemUiOiIiLCJtYXhfc2l6ZSI6IiIsImFkZF9jbGFzc2VzIjoiIiwiYWRkX3N0eWxlcyI6IiIsImFkZF9hdHRyIjoiIiwidm5fb25seV9udW1iZXIiOiIwIiwidm5fb25seV9sZXR0ZXJzIjoiMCIsInZuX3BhdHRlcm4iOiIwIiwidm5fZXF1YWwiOiIiLCJpY29uX2NsYXNzIjoiIiwiaWNvbl9zaXplIjoiIiwiaWNvbl9jb2xvciI6IiIsInRlcm1zIjoiIn0seyJic19jbGFzc19pZCI6IjYiLCJuYW1lIjoiZW1haWwiLCJsYWJlbCI6IiIsInBsYWNlaG9sZGVyIjoiRW1haWwiLCJ2YWx1ZSI6IiIsInZhbHVlX3ByZXNldCI6IiIsImh0bWwiOiJlbWFpbCIsIm1hbmRhdG9yeSI6IjEiLCJtaW5fc2l6ZSI6IiIsIm1heF9zaXplIjoiIiwiYWRkX2NsYXNzZXMiOiIiLCJhZGRfc3R5bGVzIjoiIiwiYWRkX2F0dHIiOiIiLCJ2bl9vbmx5X251bWJlciI6IjAiLCJ2bl9vbmx5X2xldHRlcnMiOiIwIiwidm5fcGF0dGVybiI6IjAiLCJ2bl9lcXVhbCI6IiIsImljb25fY2xhc3MiOiIiLCJpY29uX3NpemUiOiIiLCJpY29uX2NvbG9yIjoiIiwidGVybXMiOiIifSx7ImJzX2NsYXNzX2lkIjoiNiIsIm5hbWUiOiJQaG9uZV9udW1iZXIiLCJsYWJlbCI6IiIsInBsYWNlaG9sZGVyIjoiUGhvbmUiLCJ2YWx1ZSI6IiIsInZhbHVlX3ByZXNldCI6IiIsImh0bWwiOiJ0ZXh0IiwibWFuZGF0b3J5IjoiMCIsIm1pbl9zaXplIjoiIiwibWF4X3NpemUiOiIiLCJhZGRfY2xhc3NlcyI6IiIsImFkZF9zdHlsZXMiOiIiLCJhZGRfYXR0ciI6IiIsInZuX29ubHlfbnVtYmVyIjoiMCIsInZuX29ubHlfbGV0dGVycyI6IjAiLCJ2bl9wYXR0ZXJuIjoiIiwidm5fZXF1YWwiOiIiLCJpY29uX2NsYXNzIjoiIiwiaWNvbl9zaXplIjoiIiwiaWNvbl9jb2xvciI6IiIsInRlcm1zIjoiIn0seyJic19jbGFzc19pZCI6IjEyIiwibmFtZSI6Im1lc3NhZ2UiLCJsYWJlbCI6IiIsInBsYWNlaG9sZGVyIjoiTWVzc2FnZSIsInZhbHVlIjoiIiwidmFsdWVfcHJlc2V0IjoiIiwiaHRtbCI6InRleHRhcmVhIiwibWFuZGF0b3J5IjoiMSIsIm1pbl9zaXplIjoiIiwibWF4X3NpemUiOiIiLCJhZGRfY2xhc3NlcyI6IiIsImFkZF9zdHlsZXMiOiIiLCJhZGRfYXR0ciI6IiIsInZuX29ubHlfbnVtYmVyIjoiMCIsInZuX29ubHlfbGV0dGVycyI6IjAiLCJ2bl9wYXR0ZXJuIjoiMCIsInZuX2VxdWFsIjoiIiwiaWNvbl9jbGFzcyI6IiIsImljb25fc2l6ZSI6IiIsImljb25fY29sb3IiOiIiLCJ0ZXJtcyI6IiJ9LHsiYnNfY2xhc3NfaWQiOiIxMiIsIm5hbWUiOiJzZW5kIiwibGFiZWwiOiJTZW5kIiwiaHRtbCI6InN1Ym1pdCIsImFkZF9jbGFzc2VzIjoiIiwiYWRkX3N0eWxlcyI6IiIsImFkZF9hdHRyIjoiIiwiaWNvbl9jbGFzcyI6IiIsImljb25fc2l6ZSI6IiIsImljb25fY29sb3IiOiIiLCJ0ZXJtcyI6IiJ9LHsiYnNfY2xhc3NfaWQiOiIxMiIsIm5hbWUiOiJSb3NpbmlfQ29ybmljaV9FTiIsImxhYmVsIjoiIiwiaHRtbCI6InJlY2FwdGNoYSIsInRlcm1zIjoiIiwicmVjYXAtdGhlbWUiOiJsaWdodCIsInJlY2FwLXR5cGUiOiJhdWRpbyIsInJlY2FwLXNpemUiOiJjb21wYWN0In1dLCJvcHRzX2F0dHJzIjp7ImJnX251bWJlciI6IjQifX0sImltZ19wcmV2aWV3IjoiYmFzZS1jb250YWN0LmpwZyIsInZpZXdzIjoiMTA3MiIsInVuaXF1ZV92aWV3cyI6IjM0MyIsImFjdGlvbnMiOiI0Iiwic29ydF9vcmRlciI6IjEiLCJpc19wcm8iOiIwIiwiYWJfaWQiOiIwIiwiZGF0ZV9jcmVhdGVkIjoiMjAxNi0wNS0wMyAyMzowMTowMyIsImltZ19wcmV2aWV3X3VybCI6Imh0dHBzOlwvXC9zdXBzeXN0aWMtNDJkNy5reGNkbi5jb21cL19hc3NldHNcL2Zvcm1zXC9pbWdcL3ByZXZpZXdcL2Jhc2UtY29udGFjdC5qcGciLCJ2aWV3X2lkIjoiMTFfNDY0NzYiLCJ2aWV3X2h0bWxfaWQiOiJjc3BGb3JtU2hlbGxfMTFfNDY0NzYiLCJjb25uZWN0X2hhc2giOiJjOGRmYzg5OTUwNTc5MDExYWUyNDc5ZGFiMWQyMGI3OSJ9